The fifth round of the Women's FIDE Grand Prix in Lausanne features just one decisive game. World Champion Ju Wenjun escapes after more than 5 hours.

The battle of the two leaders Harika Dronavalli and Aleksandra Goryachkina unfolded quietly, as the balance never significantly tilted for either side. Both remain in the lead, as none of their pursuers managed to win. In fact, as many as five games were tied on this fifth day. The only winner of the day was Nana Dzagnidze, who overcame Anna Muzychuk with Black. The Georgian confessed afterward that she misplayed the opening and ended up in a difficult position. She decided to sacrifice an exchange with 21...Be6 and could not understand why her opponent refused to take it. To be fair, White only erred later and collapsed in the complications.



Mariya Muzychuk could have restored the balance in the family score by beating Ju Wenjun, but she failed to convert a winning position in the endgame. The World Champion is visibly struggling to find her shape in Lausanne, but there is still a whole second tournament half to recover.

The encounter between Zhansaya Abdumalik and Alina Kshalinskaya saw the advantage switch sides at some point. The Russian clearly took over around move 20 but wrongly took with the Rook on e5, instead of the pawn on move 27. The endgame seemed balanced afterward, but Black allowed the exchange of rooks, which could have led to defeat. White probably missed 43...b4 later on, which allowed Black to escape.



Alexandra Kosteniuk made a draw with Black against Antoaneta Stefanova and finally recovered from three defeats in a row. Equally balanced was the game between Pia Cramling and Marie Sebag.

Results of round 5:
Zhansaya Abdumalik (KAZ) – Alina Kashlinskaya (RUS) ½-½
Antoaneta Stefanova (BLG) – Alexandra Kosteniuk (RUS) ½-½
Harika Dronavalli (IND) – Aleksandra Goryachkina (RUS) ½-½
Anna Muzychuk (UKR) – Nana Dzagnidze (GEO) 0-1
Mariya Muzychuk (UKR) – Ju Wenjun (CHN) ½-½
Pia Cramling (SWE) – Marie Sebag (FRA) ½-½



Standings after round 5:
1-2. Harika Dronavalli (IND) and Aleksandra Goryachkina (RUS) - 3½ points
3.-4. Nana Dzagnidze (GEO) and Alina Kashlinskaya (RUS) - 3 points
5.-8. Anna Muzychuk (UKR), Pia Cramling (SWE), Mariya Muzychuk (UKR) and Zhansaya Abdumalik (KAZ) - 2½ points
9.-11. Ju Wenjun (CHN), Antoaneta Stefanova (BUL) and Marie Sebag (FRA) - 2 points
12. Alexandra Kosteniuk (RUS) - 1 points

Program of round 6, 7 March at 3 pm:
Alina Kashlinskaya (RUS) – Marie Sebag (FRA)
Ju Wenjun (CHN) – Pia Cramling (SWE)
Nana Dzagnidze (GEO) – Mariya Muzychuk (UKR)
Aleksandra Goryachkina (RUS) – Anna Muzychuk (UKR)
Alexandra Kosteniuk (RUS) – Harika Dronavalli (IND)
Zhansaya Abdumalik (KAZ) – Antoaneta Stefanova (BLG)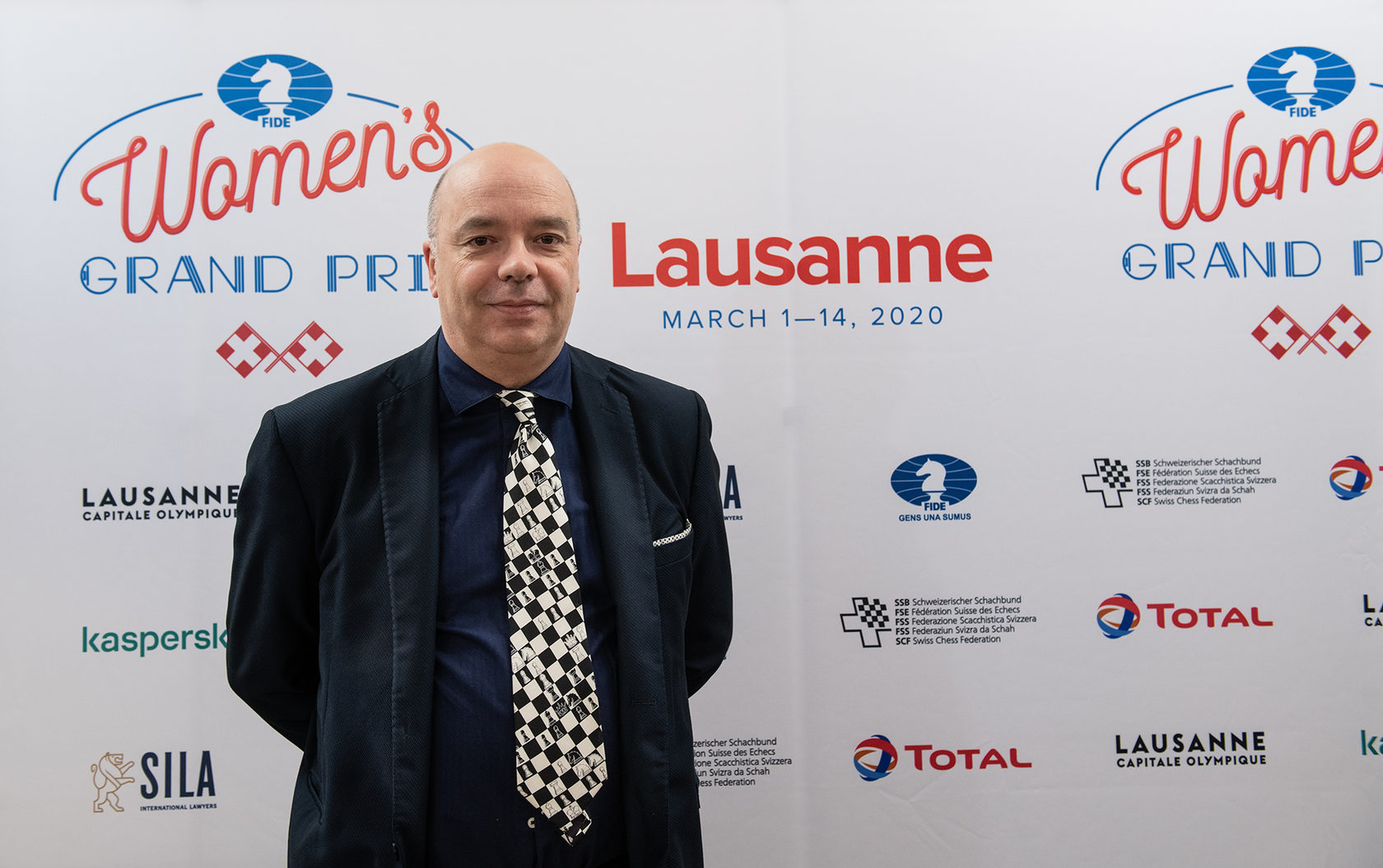 Follow all the action live with commentary by grandmasters Mikhail Gurevich and Keti Tsatsalashvili on the tournament website http://wgp2019.fide.com.
Pictures in high resolution are available for the press at our official Flickr account.

Text: Yannick Pelletier
Photos: David Llada
Contact: press@fide.com